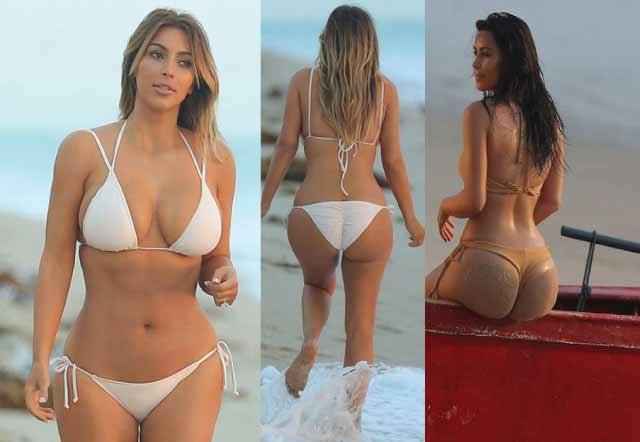 It's no news that Kim Kardashian has taken lots of bikini photos for hundreds and hundreds of times.
And we can honestly say sometimes we think bikinis her favorite outfit. Lets say you've watched Keeping up with the Kardashians two times in your life. That one time must have been about them, taking a vacation (there must be a statistic about the Kardashian clan being on a vacation 360 days a year, somewhere on the internet).
But there is no reason why we cant recall some of Kim's best bikinis, right? Because, love her or hate her, she really looks good in a bikini. Take a look at 17 best Kim Kardashian bikini photos!
1. This picture was taken recently. We can see Kim here in a beige bikini that is very small but still, ti covers all the important parts. The atmosphere is kind of magical, though. Her complexion, fantastic hair and color of the bikini are perfectly matched. All together, they give a mellow impression, almost romantic. Kim seems very tender here and we can conclude that bikini also goes well with her engagement ring.