A man left a nurse horrifically disfigured by biting off her ears, nose and fingertips after inviting her to his house for a romantic meal. The sickening and violent attack lasted four hours and came during the pair's first date after meeting online.
The attacker Anatoliy Ezhkov has been named a Russian Hannibal Lecter after leaving 41-year-old nurse Irina Gonchar with life-changing injuries, MetroUK learnt.
The 45-year-old is thought to have been high on drugs when he made the sickening attack. He allegedly plied her with alcohol and beat her up before tying her up with a cord and sinking his teeth into her flesh.
He then allegedly tried to strangle her but couldn't get a firm grip on her neck because of the amount of blood. Instead he decided to rip off her ears, nose and fingertips with his teeth as well as taking chunks out of her spine during the four hour ordeal, it is claimed.
The woman was eventually rescued after neighbours, hearing the woman's screams, called the police. She was taken to hospital suffering from concussion, a rib fracture and severe wounds to the rest of her body.
A relative of the woman told local media: 'This torture lasted for four hours, this man tore at her body with his teeth, she is positive he tried to kill her. 'He tried to smother her, but her neck was covered by blood and his hands got slippy. 'Neighbours heard screams but they are used to these things as there are lots of alcoholics living in the hostel.'
After being questioned by police the man was released on police bail until a court hearing. One of the victim's family, who was not named, told local media:
'How could the cops let him go? What if he breaks into her flat after she is sent home and tries to kill her?'
Neighbour, Ludmila Zalomskaya, added: 'I am shocked with this story and even more shocked he was released.' A police spokesman confirmed the incident took place but declined to comment.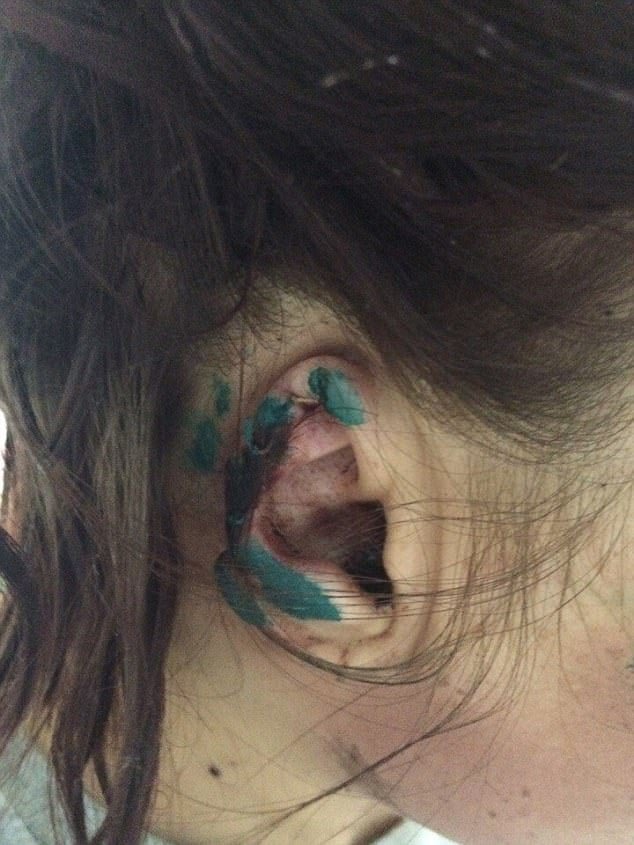 more images below on next page