There are somethings individuals do without a proper taught of it. And just like the saying "what goes around comes around".
A hit-and-run driver caught by police was distraught to learn that the woman and child he had run over and left to die were his own wife and son, according to reports.
The driver surnamed Zhang had reportedly fled the scene of the accident without stopping – not realising that the electric scooter he'd collided with was his wife's.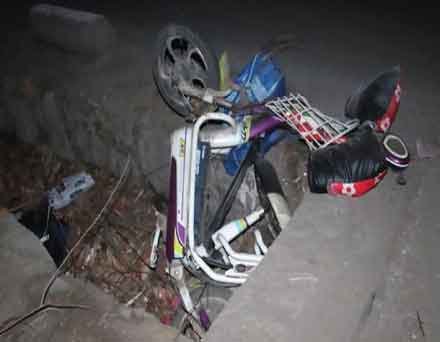 Police footage of the man later being brought back to the crime scene shows him in constant tears and wailing.
Also Read: Car thief with conscience returns baby after driving off with child in back seat
Also, witnesses who rushed to inspect the accident on the darkened road in Zibo in East China's Shandong Province reported seeing an injured woman and child.
More so, They called an ambulance and the police after the incident at 10.30pm.
The authorities rushed Zhang's wife and son to a nearby hospital. But the boy was sadly dead after failed efforts to revive him.
Watch Video In Next Page! (Warning:Disturbing)